Slot car racing has been around for a while, and they are getting more popular, immersive and advanced. One of these new generations of immersive slot cars experience is the Anki Overdrive series.
One of the sets from these series is the Anki Overdrive: Fast and Furious edition that features cars and players modeled after the cast from the Fate of the furious (One of the movies in the fast and furious series).
What is Anki Overdrive?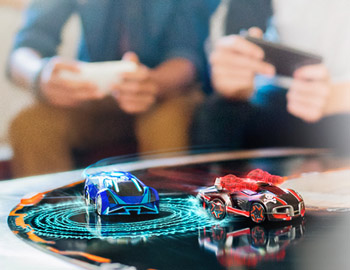 In case you are wondering what it is, Anki Overdrive, Its a slot car set that allows up to four cars to engage in a racing competition on the customisable circuit tracks that is built from different sections of tracks that comes with the pack.
Unlike most slot car tracks that are metallic and have power running through or around them, the Anki overdrive track is not powered by anything. Instead, the cars of Anki Overdrive have powered themselves and make use of on-board cameras and processors to stay on the track. The cars are controlled with smartphones or tablets instead of the usual trigger controllers. Here is a list of all the anki overdrive compatible devices.
There are a lot of amazing features on this slot car game. You can unlock power-ups and weapons that can be used to reduce the speed of an opponent's car to improve your chances of winning the game.
There are different modes available for you to play with and from. You can also play your Overdrive with AI-controlled car i.e. The A.I is capable of controlling a car, and you can race against it to home your skills before playing PVP (Players versus players) races.
Anki Overdrive Fast & Furious Edition Unboxing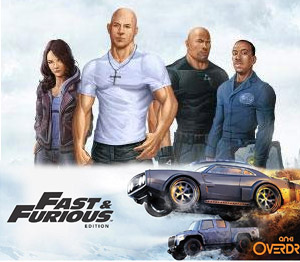 When you purchase your Anki Overdrive: Fast and Furious Edition, things you'll get in the pack include
2 cars (Dom's ice charger and Hobb's MXT truck)
Six 90 degree corner pieces
Four straight track pieces
Two track-lifting riser brackets
Car Dock charger with a USB adapter and
A Tyre cleaner
The pack does not come with trigger controllers as they are controlled from supported iOS, Android and FireOS smart devices.
This 'Fast and Furious' edition come with cars that are replicas of those found in the movie 'The Fate of the Furious'. The key AI players also are created as replicas of the characters from the Fate of the furious movie, they are voiced by the film actors and have each of the characters' driving styles.
Getting started with Anki Overdrive Fast & Furious Edition
How do you build a track in Fast & Furious Edition?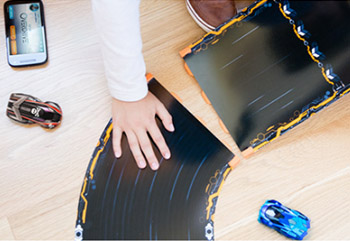 The tracks of this Anki Overdrive slot car are quite easy to set up. They require no flipping of stiff pieces of plastic, instead it feature circuits made from modular plastic sheets with magnets at the end to allow them to snap with another piece in no time at all.
The way the track system is made from sheets allows for a great deal of flexibility that allows you to run the circuits in ways that suit you.
And if you ever feel the need to make more track ideas and layouts, Anki has provided users with an online track-builder tool that helps with and allows user to plan out complex tracks.
Powering up your Anki Overdrive Fast & Furious Edition
As mentioned earlier, the tracks do not need to be powered, only the cars need to be charged up for the race.
To power your car, all you need to do is insert them into the car dock station that is plugged to a USB power source. Wait till the LED light changes color, and your car is powered and ready to race. The standard time for charging the cars of the Anki Overdrive from the flat is 8 to 10 minutes, while they can race for close to 20 minutes with such charge before running low. The Car base station has space for 4 cars and they can be charged at once.
Controlling Cars & Racing with your Ankle Overdrive Fast and Furious Edition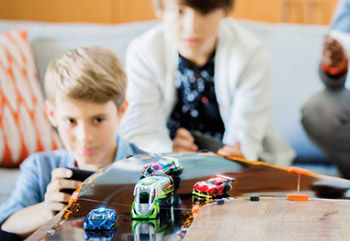 All you need to do is get the Anki Overdrive app from the stores of your compatible smart device – be it Apple App Store or Google Play Store. As a first-timer, when you run the app on your device, you'll be required to sign up for an account which doesn't take much time.
Once setup is complete, you can start racing your charged cars in earnest. All you need is provided on the app and easy to follow.
With robotics and artificial intelligence employed by the Anki Overdrive, you have access to races against highly skilled Virtual drivers. You can do a lot with your game like purchasing power-ups from the store right from the app to use during game-play to maintain an upper hand against your opponent.
You can also upgrade your gaming experience by purchasing additional cars and trucks to add to your existing list of racer vehicles. Each car has its special abilities and the fast and furious characters also have their racing style.
The Anki Overdrive Fast and Furious edition currently go for as low as around $70 as against $170 at launch.
Anki Overdrive Fast and Furious vs Starter Kit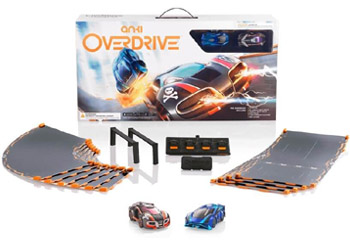 The fast and furious edition of the Anki Overdrive is different from the Anki Overdrive Starter kits.
The Anki Overdrive Starter kit comes with 10 pieces of tracks that allow the user to set it up in 8 different formats with four game modes, namely: Time trial, Race, battle and king of the hill.
Like the Fast and furious edition, the starter kit comes with two cars (Skill and Groundshock) and additional cars or track pieces can be purchased in addition to the original ones.
In an Anki Overdrive Starter Kit, you get
Two Cars (Groundshock and Skull)
Six curved track pieces
Four straight track pieces
Two riser pieces
One car dock base
One Tyre cleaner
The beauty of the Anki Overdrive slot cars is evident in its cross-platform ability. What this means is that if your friend owns an iPhone, and your own an Android device, once the necessary setup is done, you both can race on the same track.
So, if your friend visits you, there's no limitation to you challenging them to race time on your Overdrive Slot car racing to show your superiority and Skills.
Anki Overdrive Fast and Furious edition (and others in the Anki Overdrive series) are a good source of fun and enjoyment for children and even adult alike.