The hot new rage among PC gamers is RGB LED lighting and all it takes is to check out any of the game forums online. Many of the gamers who post about their gaming rigs usually will include several pics of the inside of their computer tower, many of them are literally lit up like a Christmas tree with multicolored RGB LED lights.
RGB referred to the three colors of the LED bulbs that make up the string of lights. Depending on the circuitry there are 16 million color hues that can possibly be created.
These lights are typically strung together in strips that at mounted inside the case to enhance the inside appearance of the computer. This is on top of the LED lights that can be found on many of the components like the graphics card, memory sticks, cooling fans, and even the CPU cooler.
There are many different RGB LED Light strips available in the market and for this article – we came up with a list of 6 top selling RGB LED light kits. We also included a brief review of each of them.
Best RGB LED Light Strips for Game Room
1 – Govee 32 feet LED Strip Light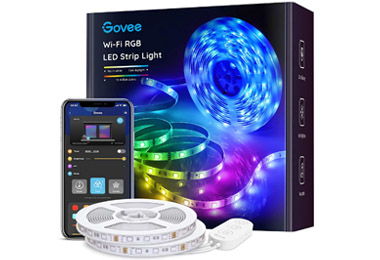 The Govee RGB LED Strip Lights are easy to use both indoors and outdoors to add a unique glow to anywhere they are mounted. The kit includes two 16.4 foot strips contained on two individual spools. The multiple colored LED's are attached to the strips of a highly flexible plastic material.
The strips are connected to a wireless controller that feeds the electrical power to each individual LED light. The red, green, and blue LED's are capable of creating 16 million hues of color. The wireless controller can be used in conjunction with the Govee App to create several different light patterns. It also can be voice-controlled using Google's Alexa Home system.
2 – NiteBird Smart RBG LED Strip Lights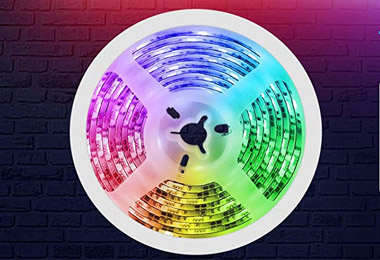 The NiteBird Smart LED Strip Lights is a flexible strip of LED lights with a 3M self-stick adhesive strip on its backside. The 9.2-foot single strip can be easily fit inside of any size computer case. The RGB (Red, Green, and Blue colors) combinations can create up to 16 million color hues and can be controlled by an APP on your phone.
The light strip is powered by USB and can be plugged into any open USB port on your computer tower. Using the built-in WiFi adapter it can connect your home's 2.4 GHz home WiFi network. It also has a built-in sound-sensitive mic and can sync the light changes to any ambient room music.
3 – Maxonar RGB LED Strip Lights
The Maxonar LED Strip Light is a highly flexible, self-stick strip of RGB LED lights. The 32-foot long strip of lights contains 600 individual color LED's. The multicolored RGB LED lights are capable of creating up to 16 million different hues. The light strip is self-sticking with an adhesive strip on the back.
The light strip has a controller pack that can be connected wireless to your home WiFi and controlled via an APP on your mobile phone. It is powered using an included AC power adapter. The mobile APP can control the RGB color patterns and dim and raise the brightness remotely from anywhere.
4 – Kasa Smart KL430 TP-Link LED Strip Lights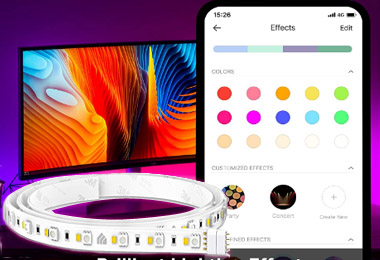 The Kasa Smart KL430 TP-Link LED Strip Lights is 80" long strip of multicolored LED RGB lights. The highly flexible strip contains 96 individual LED lights that can be changed to emit up to 16 million hues. It uses RGB (Red, Green, and Blue) technology that is WiFi connected to change the color pattern and brightness of the light produced.
The strip can be modified in length by separating it at specific points along the length in order to tailor it to your computer case. It also features a four-prong connector that you to extend the length of the strip up to 33-feet long.
The controller features WiFi, voice control, and has a mobile APP for Android and Apple iOS for controlling the color patterns and intensity of the light.
5 – ALITOVE WS2812B Individually Addressable LED Strip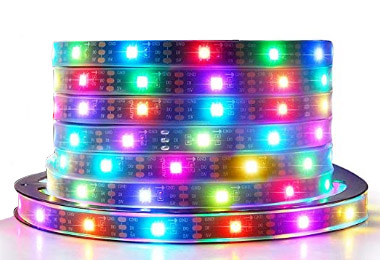 The ALITOVE 16.4 feet WS2812B Individually Addressable LED Strip Light is a powerful RGB LED light strip that can be used in conjunction with other RGB components to enhance the look of any gaming PC rig. The strip features a 3 pin JST-SM connector on each end along with grounding wires. This makes it easy to separate it into smaller sections to fit perfectly into any size computer tower.
The highly flexible strip is covered in a waterproof silicone coating which means it can be used in a wide range of applications. The strip requires a 5vdc power supply in order to work normally. The 16.4-foot strip contains 150 individual RGB LEDs that work with a number of different programmable controllers including Raspberry Pi.
6 – Philips Hue White & Color Ambiance RGB Light Strip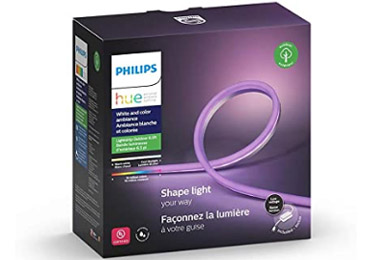 The Philips Hue White & Color Ambiance Outdoor Light Strip is a flexible RGB LED light strip. The 7-foot long strip can be mounted inside any computer tower using the included nylon mounting clips. The strip contains 6 individually controlled RGB LED lights. It comes with an AC power adapter and a unique connector.
The Philips Hue Light strip is compatible with Alexa, Apple's Home Kit, and Google Assistant, but it requires the purchase of a Philips Hue Smart Hub. The RGB LED lights can be controlled to emit colored light in a wide range of colors up to 16 million different hues.
You can download the Philips Hue app on your Apple iOS or Google Android mobile device and control the color patterns and brightness.