Best Arcade stick for PlayStation4, PlayStation3 and PC.
You may have felt intimidated by the transition from standard game-pad to arcade stick.
However, there is no reason to worry because a solution has been found for you. The household gaming name Mad Catz has just come up with what will interest you.
Mad Catz Street fighter V Arcade FightStick Alpha is an appropriate fighter sporting, an ideal training, and weight. Alpha gives a unique feel for your favorite arcade battle without the weighty features that have traditionally been a characteristic of Mad Catz.
Introduction
The Arcade FightStick Alpha is the best companion for non-bar or non-intricate combo games. It will deliver a fine gaming experience that you ever-wish for in a fighting game. It accommodates all games compatible with PS3 and PS4.
It features a ball-top lever and six-button structure that fits in the Japanese arcade cabinets spacing. The two remaining are isolated but still within easy reach. You can access them for fighters as well as other titles.
Benefits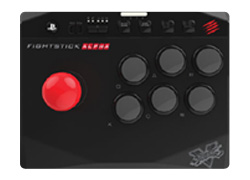 You will enjoy a multi-player action in the street fighter allowing you to play games such as; Tekken, Dead or Alive, Injustice, Skull Girls, Marvel vs. Capcom and many others.
Reliable connectivity with low latency is all that you want to make your gaming successful and worthwhile. This is a package the Alpha FighterStick comes with.
Its properly scaled layout makes it an appropriate choice for you whether you are a beginner or grandmaster. It is compatible with both PS3 and PS4 consoles to spoil you for choice. You have all that you need to control games in these consoles
Features of Street Fighter V Arcade FightStick Alpha
So what are some of the features that you will enjoy using Alpha?
It's characterized by an ultra-compact design that gives it a high-quality look and put it to the standards of its predecessors. It is also highly streamlined and very portable making it comfortable to carry.
A six-button layout
It features a vewlix style that is characterized by six action buttons to enable you to edge your enemy. You can comfortably stay focused on the match with the classic gaming controls.
Versatile Gaming Experience
It features a three-way button that enables the joystick to exclusively function as both left and right analog stick and D-pad. This enhances the gameplay to unlock a variety of game types.
Uninterrupted Game Play
It features a dedicated button that creates options for enable, disable, select and share. It also prevents the use of PS button.  You are sure of very slim chances of hitting a wrong button during the gaming experience.
Reliable USB Connection
It's one of the best ways to realize a peaceful gaming experience through peace of mind. To have a peace of mind during gaming, you need to be assured of a reliable USB connection.  Such a connection delivers a low-latency and reliable link to your device. It also defines your gaming zone boundary and distinguishes it from the TV. Alpha lets you enjoy a three meters long cable that cannot disappoint you.
Customer Satisfaction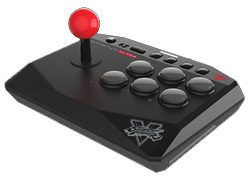 A number of reviews of Mad Catz's initial fight sticks gave birth to Alpha. It has featured numerous improvements over its predecessors. The most visible one is its streamlined body. Whereas the initial fight sticks featured hefty sizes, Alpha is considerably small making it customers' number one choice. It also features an improvement on the USB which is longer and more reliable. It certainly outdoes all its siblings from Mad Catz.
Pros of Street Fighter V Arcade FightStick Alpha
It has enhanced features and an ace in its pockets. You will experience cool gaming experience with these features.
Its flexible buttons make you be totally in control of your game.
Cons of Street Fighter V Arcade FightStick Alpha
Its cable feels somehow cheap and flimsy because its length may be bulky to fit inside.
Commonly asked questions about Street Fighter V Arcade Fightstick Alpha
Is FightStick Alpha really the best?
Yes, when compared to its predecessors it scores higher on the ranking scale.
Which games are best playable with Alpha?
This is a frequently asked question. You can play nearly all games, but the best experience will be street fight games.
Can Alpha play PC games?
Well, the stress is on consoles, but still, you can control your PC games using Alpha.
Final Verdict
In the end we love the Mad Catz Street Fighter V Arcade FightStick Alpha with great features and affordable price. It can deliver a gaming experience that will keep you rocked to your console. It is worthy of your money.