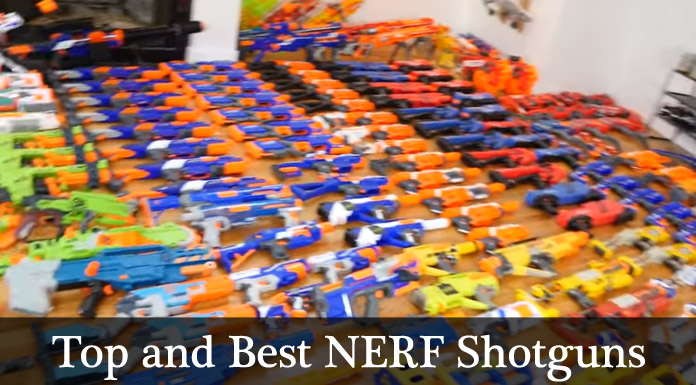 Toys guns are always fascinated the kids so much that they always wanted to have more in their toy rack!
In fact not only kids but also sometimes adults too have so much fun playing with toys guns.
When buying the best shotguns you have so many options to choose from and if you don't have time and energy to go from tons of items to select the best, we have done the hardworking for you, and selected the below some of our list of best shotguns from Nerf.
Although it's tough to get few items out of so many options but still the list is good enough to choose from, also note that this list will be updated on a frequently basis, so don't forgot to subscribe to our mailing list to get yourself updated.
If you are rather interested in buying Machine guns here is a list of Best Nerf Machine Guns
Top 5 Best NERF Shotguns
1. Nerf Zombie Strike Sledgefire Blaster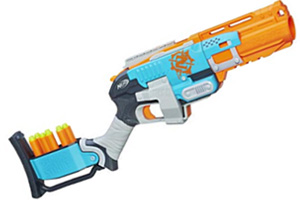 This is one of the best toy guns made by Nerf. The Nerf Zombie features a lot of functionality that most kids can't get over.
This shotgun is a 2.5 pounds weight and looks very sturdy and portable. It features quality blasting of 3 darts at a time with its re-loadable shell holding 3 darts.
The sledgefire blast is a nice toy for any kid who love blasting for fun.
The manufacturer clearly states that the material used for the Nerf Zombie shotgun is safe and tested with superior quality that can ensure or guarantee durability and unrestricted fun.
My wife saw this gun first and told me it would be nice for the kids. I decided to buy one as a test and what I got proofed right and great.
The only drawback of this shotgun is the blasting which is too strong and can be dangerous when aimed at delicate parts. It is also known to be very dangerous for kids under 3 years and below. So make sure you are not keeping your small kids alone with this shotgun to avoid any accident!
2. Nerf Rampage N-Strike Elite Toy Shotgun with 25 Dart Drum Slam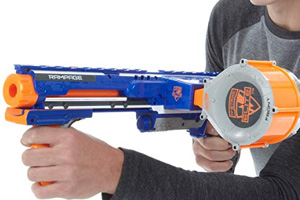 This is the perfect and flawless toy gun for any kids, teens and even adults. It is more than just a normal and ordinary toy with its very nice and impressive features that works so well to thrill and excite kids and individuals of different age group.
The Nerf Rampage N-Strike is a notable gun from the popular and famous manufacturer with a dart blasting that covers up to 75 feet, the storm of darts from the slam fire handle to attack target, effective tactical rail compatibility, 25 darts drum and 25 elite darts for absolute and unrivaled fun.
The manufacturer stated that this toy gun works on the newest blasting technology that ensures rapid and effective blitz firing that is revolutionized. The gun fires so well and can even be dangerous when used without due caution.
For a gun of about 2.8 pounds weight, it sure fits well for me as I often use it along with my kids at the backyard. It is very compact and well made with quality materials.
Drawback is the jamming issues that usually come up with slam fire handle when not well operated but the Nerf Rampage is by every measure, a great buy for me.
3. Nerf N-Strike Elite Rough Cut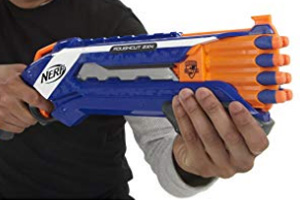 This is another very powerful shotgun from Nerf and it features an impressive pump action that most kids glamour for.
The Nerf N-Strike Rough cut comes with 8 elite darts that is powered out by a pump action which ensures effective and steady stream of darts.
The double barrel gun is simple and efficient in providing the best real experience with its 75 feet coverage of elite darts, superior and great tactical rail compatibility and nice body structure that is compact and handy for every kids.
The Rough cut is well functional in its multi-shot ability on both barrels and 2 darts firing and blasting at a time.
Manufacturers claim the Nerf N-Strike can fire all elite darts without reloading and of course that is true because I got the toy after seeing its great features from a kid in the neighborhood. I love every bit of the shotgun as it is a very versatile and handy gun. The long range darts firing without reloading is very impressive and serves as the superb feature for my kids.
Though fire blaster jamming is an issue with kids but the toy gun is very easy to fix and be ready for another round of fun. Nerf got this made well and coming at an affordable cost is thrilling.
4. Nerf N-Strike Elite Double-Breach Shotgun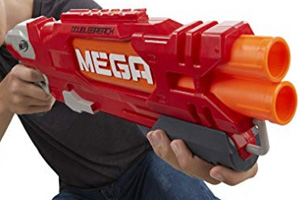 The Nerf N-Strike Elite is a very nice buy for any kid as it comes loaded with so much features that will excite them.
This toy gun has a double-barrel and breach loading features that is well functional. It also has a blaster with 6 mega whistler darts that most kids love and cherish.
The gun is however rather long and most people consider its 90 feet or 27 meters dimension too much to carry for kids younger than 8 or 9 years of age.
Based on manufacturer's information, kids can relish the fun and excitement that comes with using a gun that double attack through a very effective breach-load blaster as it produces 2 darts in a row with each coming from the two barrels.
Its darts make a good sound when released to give nice effects that kids love.
I personally got this gun for my kid and it turned out cool. The dart effects are superb that adults sometimes love to play with it. It comes in a simple brown package and works well.
However, I observed that it is not so ideal for younger kids due to its size and dimension. Overall, the gun is a good one and older kids of 9 and above would love it.
5. Nerf N-Strike Barrel Break IX-2 Blaster – Sonic Series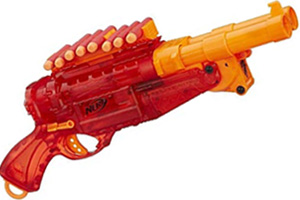 This is another type of toy gun for kids from the impressive N-Strike series made by Nerf. The Nerf barrel break shotgun is the best choice for many kids due to its 2 pounds weight, effective firing as expected of any N-Strike series, quality materials and great stylish sturdy design.
The barrel allows users the freedom to either fire a dart at a time or launch both barrels together.
The sonic blaster gun is well loaded with thrilling darts with the removable ammo rail holding 8 darts and another 10 whistler darts.
The manufacturer stated that the toy gun requires 3 AAA batteries, which is not included in the package to power it.
Buying this toy gun came at a time I needed a gift for my 10 year old boy. My boy and i loves it because of the great features it possess but found a drawback which is actually the jamming issue. Kids often make mistakes with cocking more than once which makes it jam.
Some people saying that they are facing some problem of chamber being stuck open like this – if you face this problem all you have to do is push down and then lift the mechanism back up.