Mad Catz is well known distributor of electronic devices. One of its famous devices is the Tritton stereo headset.
Tritton headsets can be easy connected to your mobile devices. PlayStation 3, PlayStation 4 and PlayStation 4 pro.
It can connect to your wireless controller. It consist of a 3.5 mm breakaway cable. The comfortable cushion provide in top and the ear parts gives extra comfort to you while using.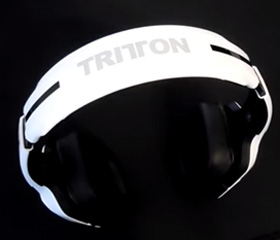 The microphone is extreme durable and flexible. To provide good quality of audio performance on your gaming session. If you want hear the audio of the game. You need to connect the red and white cable on the television audio output. And the headsets USB to PlayStation USB port. To enjoy PlayStation audio chat features you need to go on the audio settings and change it to audio chat.
For connecting to your controller you need to go on the PS4 settings and select all audio.
The headset comes in two colors one is black and other is white. The headset is designed to provide high quality audio sound. Its perfect and very comfortable pads for great experience on Sony consoles.
The mic of the earphone is very flexible and if you don't like you can easily remove the mic from the headset. There is on/off switch is provided on the side body. It also has a voice volume control features. This is if your online appointee is distributing you can adjust is voice with the game audio.
It is very easy to install and connect the earphones. There is a setup manual in the box. The ear pockets are of comfortable cushion pads making your ears safe inside. The headphone can be extendable up-to 1.25 inches on the sides.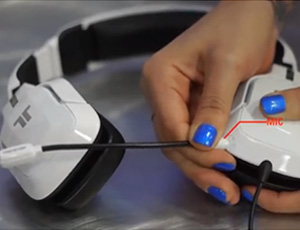 The soft comfortable cushion is also provided in the neck section. The length of the wire is approximately 4.25 meter. The diameter of the speakers are approximately 40 mm. The ear part have supra aural. The magnet used in these earphones are neodymium, which can bear audio frequency a proximity of up to 20 kHz.
The length is about 9.5 inches height is 9 inches and width is 3.8 inches. The weight is approximately 1.65 pounds. If you need to connect to any other electronic device you will need an adopter. These headsets are well known in the gaming committee.
You need to run the game in RCA cable it is good in audio quality. While using earphones it includes a volume box. Which comes with outgoing, incoming audio and mute control on the volume box. These are best in use for some of the games like Call of Duty.
The wire in headsets first goes in to the volume box. Then the wire divide into two parts one part is the USB which connect in console. And second part plug which connects to back of the television. These set can resist up to 16 ohms. The head-rail can be adjustable. It is also recommended to be used in PlayStation 4.
How to connect Tritton Kunai with PS4
In PlayStation you connect it with RCA cable and in PS vita you have to connect it with 3.5 mm cable connector. In PS4 you connect it with USB drive.
To connect this with your mobile device you will need an additional adapter. It will be very useful while going for a workout or long running. The outside part of the headsets are made up of plastic material. The whole body is also covered in black with white stripe on the middle part.
The Logo is present on the sides while on the top part Tritton is written and in lower part Kunai is also written. Same things goes for white also the difference is everything is in white and the strips are in black color. This model was first released in 2013.
To achieve the warranty you should have a return number from the company. You can get these numbers from calling the company.
FAQ: Using Tritton Kunai Pro Headset with PS4
How do I fix my ps4 headset not working? Tritton Headset not working on PS4
If your Tritton headset not working on PS4 try this:
First unplug your Tritton Kunai headset from PlayStation controller
Disconnect the mic boom by pulling it out of the headset and plug the mic boom back in
Re-plug the Tritton Kunai headset into PlayStation 4 controller again
Doing these steps might fix the problem and hopefully Tritton Kunai headphone will start working with your PS4.
How can I test my mic on PS4?
There are N numbers of ways to test if you mic is working on PS4 or not, here is a simple method. All you have to do is record a message on your PS4 and try to send it to your friend by using voice button. After you record your message, you can listen to your voice before sending it to others. This is the simple and best method to test your mic is working or not on your PS4.
How do you set up a headset for PS4?
Setting up Tritton Kunai headset to PS4 is simple:
connect the Tritton Kunai headset to PS4 controller
Go to Audio Devices
Go to Output Device
Select Headphone Connected to Controller
Go to Output to Headphone option
and finally select "All Audio"