The holidays are around the corner and you would be wondering what gift you should buy for your kid at this Christmas or you looking for a birthday gift for you 3-4 years old kid and you are tired of looking the same gift toys, you want to give something special for your kid.
Here is a gift we recommend for you to give your children, The Matchbox Garage Play Set (4-Level) is a one stop shop for your kid's vehicle to get a refresh and s/he would defiantly love this toy.
You can get your vehicle go through 4 levels of movement, move around the spiral ramp, stop to refuel at the gas station or a repair station, or drive the crane to the very top on the real working elevator.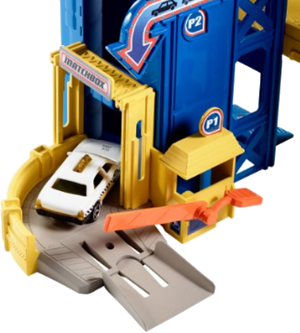 The elevator works very well and your kid will definitely love to bring the cars up to the top and then send them spinning down the twisty ramp and will continue do so – it's really awesome looking and enjoying thing for kids.
The whole set of matchbox garage playset is made of sturdy and durable plastic material which can easily withstand against most of the nasty jerks and falls on floor by your kids.
Features of Matchbox Garage Play-set (4-Level)
Features a car wash to get your Matchbox vehicles clean
Features a service station to repair the Matchbox vehicles
Comes with 1 Matchbox tow truck
Sturdy and durable plastic
Suitable for 3-10 years kids
The Matchbox garage play set comes in many colors which looks adorable and attractive once you join each part and make it single working piece.
How to Assemble Matchbox Level 4 Garage
Note though assembling the matchbox garage set is not easy and you would have invest lot of time and there is a learning curve in assembling the complete garage play set.
There are many tiny stickers to apply to complete the assembling also the instructions are not easy to follow step-by-step procedure and it didn't tell you what goes where.
It's easy to figure out on your own but not easy for the kids to do themselves, you need to help them set it up first time.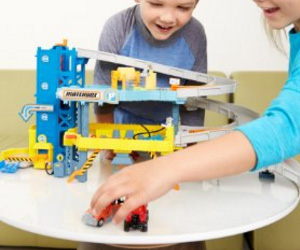 Additionally, some users reported that the assembling the parts together is a bit difficult and take around 1-2 hours to finish. Yes, it is going to take some time, but if you pull together the structure first and then apply the stickers, you will notice it's a bit fast to assemble and you won't get confused.
It's not possible to position them before hand as recommended because you are not sure what you are actually looking at until it's finished.
In terms of how comfortable our tot will be playing with this Matchbox garage play set, let's just say that s/he didn't have any complaints.
We heard from many customers saying that after the initial setup, their kids are loving the garage set so much that many of them are playing with it hour every day.
Kids Loving Matchbox Level 4 Play-Set
Many kids are so much into the game that they are pretending their vehicle like the real world scenario – read this customer review what he said about its kid playing with the matchbox garage. "Awesome toy- we purchased this toy for our 3 year son on his birthday.
He loves it! He really likes the elevator and the car wash. I showed him a video of a real mechanic shop and trucks being lifted up and since he has really enjoyed the mechanic portion of the garage.
He loves pretending that cars break down or crash and then he takes them to get fixed."
What's more interesting and happy feeling of a dad who bought a gift for his child and he/she really loves it, isn't it?
Conclusion
We really enjoyed this matchbox garage play set and we think your kid will enjoy this adorable toy. Assemble it first yourself and give it to your kid – he really will get into it and will play hours with it.
The quality of product features and the attention it get from your children is something makes your and yours kids day awesome.