In this hi-tech century kids and toddlers are becoming more use to using gadgets then ever, they wanted to own the best and latest tech gadgets in their daily lives. One such device is a headphones.
Headphones are mostly used to listen music, playing games and talking with friends and family members.
For younger children who are still growing, it is important to avoid ear damage caused by excessive sound levels and therefore a number of manufacturers have developed specifically designed headphones for kids.
The main issue is to reduce the sound pressure level (SPL) which is delivered to the inner ear and this can be achieved by a number of different methods. Many have a predetermined decibel limit or a variable volume control which has a maximum sound limit.
Also headphones for kids tend to be made from lighter and more robust materials to survive the everyday handling by children.
I was hunt for a headphone for my kid, when i search online there were a ton of them! It was very hard for me to choose the perfect one for the kid, so i sat down and did a research myself and came up with this list.
The list currently listed only 7 best headphones for kids and youngsters, however i will add 3 more to make it 10.
Meanwhile I find the rest 3, you enjoy the below list and choose the perfect one for you particular needs.
Top 10 Best Headphones for Kids 2023
#1 LilGadgets Children's Wireless Bluetooth Headphones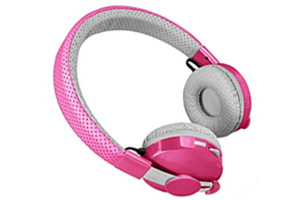 I was looking for headphones that were specifically designed for kids, so they had to be appealing in design and also fit on kid's heads perfectly I bumped into this.
There is a lot of requirements to pack into one headphone, but I found it in LilGadget's Untangled Pro.
I absolutely love the design and color range. The colors are bright and suitable for girls and boys. It is specifically designed for the youngest kids (ages 2+) and the Connect+ Pro (5 years+) is extendable for bigger kids.
The headphone is foldable, wired only and come in pink, purple, green, blue and black.
Then there is the Untangled Pro which is Bluetooth enabled and wired and it has a built-in microphone. It comes in a pink color
This LilGadget range has SharePort which allows you to share sounds from a single source. This is a brilliant feature and works really well for the family.
If you have two headphones you can connect them with a cable and connect one of the headphones to the source, like an iPad/MP3 player. Now the kids can listen to story or music or watch a film together.
This feature is a life saver for long car journeys, where the kids want to listen to something and you could do with silence! The max volume is set at 93db with 40mm drivers, with 12 hour battery life and 180 hour standby. Its sized, padded, and durable for children (recommended for ages 4+), compatible with nearly all Bluetooth devices.
#2 LilGadgets Connect+ Premium Volume Limited Wired Headphones with SharePort
These headphones fit for 2 year old kid perfectly. Each pair of headset comes with a microfiber travel pouch and a detachable 52 inch, 3.5 millimeter audio cable with inline microphone.
The premium nylon braided audio cable is designed to more effectively prevent tangles.
The headphone has a Connect+ features the integrated SharePort technology, where you can connect multiple headphones to one device, no splitter is needed.
The max volume is set at 93db with internal 40mm drivers and a range of 20Hz to 20 kHz. It's very comfortably sized for children (recommended for ages 2-8).
#3 My Little Pony Over-the-Ear Headphones
If you are looking for headphone that add some style to your kid's ear, then this is the right choice.
The outer face of the ear cups of headphones feature your favorite characters. It's a fun way to add some style to your ears, while showing the world how much you love the My Little Pony.
The headset are compatible with all portable devices that feature a 3.5mm stereo jack output and portable gaming devices such as the PS Vita and Nintendo DS series.
These headphones are also compatible with laptops, PCs, CD players, and home audio systems.
The My Little Pony headphone series features a built-in volume limiter, which protects children's hearing by automatically limiting audio volume to approximately 80% of the original maximum volume.
These headphones are safe to use for children from 3-9 years old. The ear cups are lightweight with thick, comfortable padding to provide noise isolation, while the headband bends easily for a comfortable fit.
#4 CozyPhones ultra-thin Speakers for Children – 
Comfortable Soft Fleece Headband
You can't beat the price, quality, or convenience of CozyPhones. They're made just for kids and are wonderful for long days of travel or simply day to day use.
The CozyPhone headphone comes with ultra-thin 1/8″ speakers and durable braided cable. This earphone is a great alternative for kids who hate earbuds, struggle with bulky over the ear headphones or have sensory issues or SPD.
Lightweight, comfortable, washable headband with adjustable, removable speakers provide the perfect fit. It is comfortable and easy to carry with its unique design makes it easy to keep track of it. The ultra-thin speakers are hardly noticeable.
No earbuds sticking in the ear, or bulky headphones that don't really fit a child's head. It can also be pulled down over the eyes as a sleep mask and will not interfere with a car seat headrest.
It is flexible and also has a durable 52 inches braided cord and sturdy 3.5mm stereo plug. It can't kink, twist or break under normal use. CozyPhones provide the ultimate in comfort for sleeping. Embedded speakers in a soft, fleece headband are completely adjustable for the perfect fit.
#5 Snug Plug-n-Play DJ Style Kids Headphones
This kid's headphone is the ideal companion to your kid's multimedia entertainment or learning experience. Allow your kids to safely engage in music, movies, video games and learning software with fun and ease. Just Plug and Play! The headphone is perfect for kids aged 3+.
This Snug Plug n Play headphone was designed exclusively with children in mind. The adjustable headband guarantees a perfect fit while soft, comfortable ear cushions protect the ears all time. The cable is thick and ready for heavy use and its only attracted to one side of the headphones left and right are clearly marked on each ear.
The headphone uses a standard 3.5mm headphone jack, these headphones for kids work with virtually all smart phones and tablets. This headphones also provides an excellent listening experience for your child, while also keeping the surrounding house or car peaceful and quiet. Enjoy the sweet sound of silence as your child enjoys their entertainment or educational media.
#6 iClever BoostCare Wired Over-Ear Kids Headphones
This is another headphone you can choose to buy for your kid. What I love most about this headset is that it is twist-able, bendable, stretchable fun, and tangle-free cords, soft touch and child friendly.
It also has a built-in volume controlled circuitry that ensures the sound is within levels recommend safe for young children's eardrums and inner ear at 85db. With its standard 3.5mm headphone jack, your kid's headphones works with virtually all smartphones and kids tablet. It comes with 18 month warranty.
When it comes to children, not all headphones are created equal. The best headphones for adults are rarely the best models for kids.
Using the wrong headphones could damage kid's hearing. iClever boost care Over the Ear Headphones designed specially with kids in mind. It is recommended kids for 3-12.
#7 EasySMX Comfortable Over-Ear Headsets with 85dB Volume Limited Protection
This is another headphone which is built for children. The headphone has an in-built automatically voice limiting feature to protect your kid's hearing. Volume limiter at 80-85 dB which made complies with the strict 'consumer Product Safety Improvement Act' regulation.
The headset is compatible with the all portable devices that feature a 3.5 mm stereo jack output, including iPod, iPhone, iPad, Android smartphones and tablets, and Portable gaming devices.
Easy used to the kids in listening, music and movies. The kid's headphones equipped with high quality poly-carbonate headband, protein leather soft cushioned ear pads and environment-friendly plastic outer shell. Adjustable headband to get the right fit for the children.
With the small, lightweight over-the -head design with foam Ear cushions for secure, be sure of a comfortable fit. Lightweight structure makes them portable and great space-savers while traveling or outdoor learning.